The Dutch Maastricht: a lifestyle hotel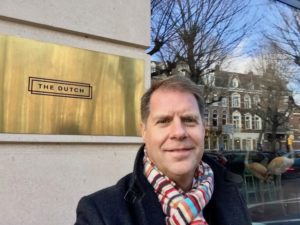 Maastricht, January 2017...
When entering the pink, green and blue lobby it feels you are back in a modern 80th setting, with as eye catcher the 2 pink flamingo's. Located at just 5 minutes' walk from the train station and around the corner you find nice shops and the market of the Wyck district. I liked the catchy one-liners you will see throughout the hotel; a mural of Jane Fonda in fitness outfit with "Jane wants to take the stairs", coffee cups with "saving you from another ordinary day". The rooms have a Miami beach color pallet and are bright and clean. Very convenient is that the electricity sockets are placed visible and hassle-free where you want them to be. Continental breakfast is delivered to your room in a breakfast bag. A full breakfast is offered at the sister property Hotel Beaumont, located at 1 block walk.
If you are interested in the highlights of Maastricht, watch my vlog on The Dutchman's YouTube Channel >>>
Get in touch for any information about this venue or tailor made programs.
Want to be informed about what's happening in The Netherlands? Subscribe to The Dutchman's Newsletter.