Culinary experience at Kaagman & Kortekaas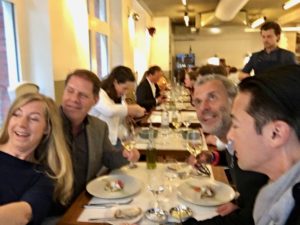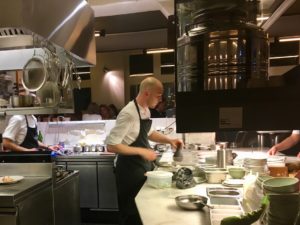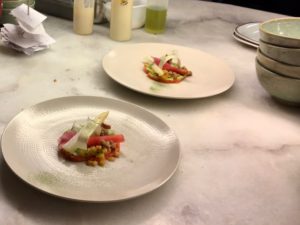 Amsterdam, April 2017….
After a few earlier attempts, I had the pleasure to finally try out this restaurant which has been the talk of the town since its opening. If you are into gastronomy in bistro style, this is the place to go.
The open kitchen is the heart of this restaurant and you can see the chefs making all dishes from scratch. The ambiance is fashionable, informal and vibrant. A warm welcome awaits you and the team makes you feel at home. But the highlight is the food, as it should be. Creative, sensitive and tasty.
A rollercoaster of culinary creations, from the lukewarm spearing fish as appetizer, a starter of Norwegian salmon with lovely crunches of lard and refreshing radish, a garlic soup with burrata and much more, octopus and the main course was all about the pigeon.
I could not resist to enjoy some great cheeses and we shared a spicy strawberry dessert. The matching wines were original, especially the Riesling with the garlic soup. What a great evening which I hope and recommend you will also experience while in Amsterdam.