Manoir Inter Scaldes: a highlight for culinary lovers.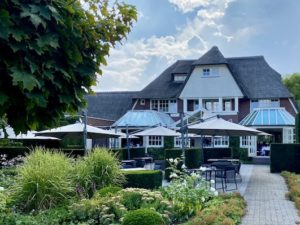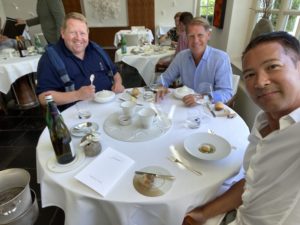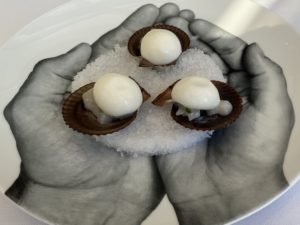 Zeeland, August 2020…
Chef Jannis Brevet and his wife Claudia opened in 2001 their lovely estate in the province of Zeeland, located in the southwest of the Netherlands, on a peninsula bordering Belgium. Zeeland is one of the least populated provinces. Surrounded as it is by highly fertile soil and sea, Zeeland shines with its number of Michelin starred restaurants (7 restaurants with 11 Michelin stars in total). Succulent oysters, delicious crabs and an abundance of seafood result in a culinary haven in an unspoiled and off the beaten path environment.
The Dutchman had the pleasure to enjoy an 8-course lunch, which included sublime, surprising and perfectly balanced flavor combinations. No culinary tricks but utter perfection. Claudia and her team were so welcoming, creating the perfect ambiance to enjoy this culinary feast. Sommelier Geert Rutten perfectly matched the wines to our taste and went out of his way when we asked for a different red wine to pair with the perfectly cooked fillet of Lamb. From the 3 appetizers the rose water flavored beetroot with pineapple stood out in finesse and taste. We started lunch with a brandade of turbot with caviar served in a porcelain egg, followed by striking presentation of 3 pétoncles (mini coquilles). The next course was a signature dish of Chef Jannis and to me the sensation of this lunch, served in 2 preparations. A bowl of Duck foie gras (bio) with old port reduction covered with a foam of popcorn and parmesan and a tray with an apple and passion fruit compote to soften the pallet with sesame seeds brioche bread and a delightful smooth foie gras mousse with a parmesan cheese cream. The 3 oysters in 3 preparations created a nice freshness before the perfectly cooked lemon sole with sweet koji sauce and refreshing ponzu. Can it get better than this?
Yes, for sure. Next was pure art and cuisine, mouthwatering Zeeland lamb inspired by Alexander Calder's minimalistic and closing off with boeddha vingers and a tompouce with olive oil ice cream (yum yum yum). Coffee and sweets were served in the tranquil garden and we visited one of the elegant and spacious suites of the Manoir where will certainly stay next time. Thank you so much Jannis, Claudia and the whole team for this authentic, elegant and unforgettable gastronomic experience.
Since 2018, Manoir Inter Scaldes is decorated with 3 Michelin stars and ranked as the best gourmet restaurant in the Netherlands. Mind you, there are only two 3-star Michelin restaurants in the Netherlands. Do you want to experience this highlight for culinary lovers when visiting Holland? Get in touch, and we'll make the necessary arrangements for you in a tailormade proposal.