Ratatouille food and wine sparkles in Haarlem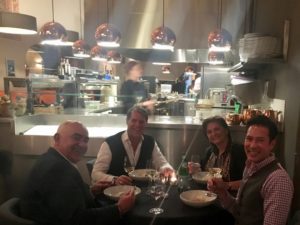 Haarlem, November 2017…
Located in a monumental warehouse with a nice terrace along the Spaarne River in Haarlem. A perfect match with the philosophy and passion of Chef Jozua Jaring. Decorated with 1 Michelin star but very accessible, no stuffy ambiance and overpriced food. The focus is on the ingredients and fresh products. They even have a rooftop herb garden and you definitely taste the difference. We started off with a crispy fresh vegetable roll with a beetroot macaron followed by langoustines and 4 different beef preparations served on a bone and a lovely soft centered chocolate cake with matching wines. The attentive welcome at the door by the chef himself, the open kitchen and friendly staff made this evening a special night out in the beautiful town of Haarlem.