Rotterdam: the city of modern architecture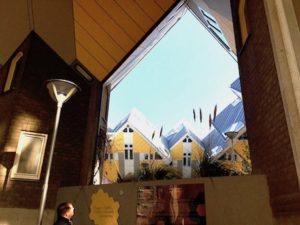 Rotterdam, April 2019...
Rotterdam is a major port city in the Dutch province of South Holland. Known for its Erasmus University, riverside setting, lively cultural life and maritime heritage. The near-complete destruction of the city center in the World War II Rotterdam Blitz has resulted in a varied architectural landscape, including sky-scrapers (an uncommon sight in other Dutch cities) designed by renowned architects such as Rem Koolhaas, Piet Blom and Ben van Berkel.
When visiting Rotterdam, you definitely have to see and or visit these highlights like the cube houses. high density housing with sufficient space on the ground level, since its main purpose is to optimize the space inside. The Euromast, a tv tower offering 360-degree views. The Erasmusbrug, a combined cable-stayed and bascule bridge, connecting the north and south parts of this city, second largest in the Netherlands. Kunsthal (Art hall) designed by the Dutch architect Rem Koolhaas. No permanent collection but a wide range of temporary exhibits. The large space allows various exhibits in parallel. The range of exhibitions presented at the Kunsthal ranges from 20th century masters to current contemporary art movements. The Port of Rotterdam, the largest port in Europe. From 1962 until 2004 it was the world's busiest port, now overtaken first by Singapore and then Shanghai. And last but not least the Markthal, a residential and office building with a market hall underneath.
Interested to pay a visit during your stay in Holland? Get in touch and we love to make a tailor-made proposal for visits to this city or others through Holland, with skip the lines tickets and escorted by a specialized guide.