The West-Indisch Huis and wine bar Stuyvesant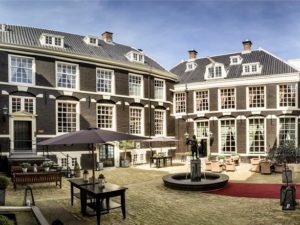 Amsterdam, Februari 2017...
To me, already for many years, the perfect private venue in Amsterdam is The West-Indisch Huis. A rich history, courtyard for pre-dinner drinks and multiple carefully decorated dining rooms. The Dutchman met with Merel de Weijer and Fleur Burggraaf for an update.
You still feel the spirit of the 17th century Dutch trade in this former headquarters of the Dutch West India Company (WIC). The proud statue of Peter Stuyvesant, the last Dutch Director General of Nieuw Nederland (better know now as New York City), welcomes you in the courtyard. No wonder the new wine bar is called Stuyvesant. Elegantly set up with cozy orange velvet coaches mixed with high bar tables, serving fabulous wines. I loved the Rioja Covila II, powerful for its age, rich red fruit and a touch of oak.
With over 30 years of experience, catering company 'a matter of TASTE' is a professional, creative and great partner to organize all kind of events. Nothing is too crazy. New catering concepts have been created matching the trend of local healthy culinary creations in different themed settings. The West-Indisch Huis has everything for an event to remember.
Amsterdam, June 2020...
I recently visited the West-Indian House again: The Dutchman's YouTube Channel >>>